Becoming a digital healthcare organization benefits both patients and caregivers. Access to digital information can help improve patient safety, increase caregiver satisfaction, reduce errors and more.
Electronic medical record (EMR), or electronic patient record (EPR), implementation levels vary by region, country and each organization. During each phase, unique equipment is required to help drive user adoption and further digitalization.
The HIMSS Electronic Medical Record Adoption Model (EMRAM) is an internationally trusted resource for understanding the EMR journey. Review a summary of the HIMSS key stages below alongside our recommendations for relevant technology solutions to support digital growth.
Solutions for Each EMR Adoption Stage

Your organization has not yet installed all the key department systems across laboratory, pharmacy, cardiology, radiology and more.
Recommended Equipment
Start by incorporating desk monitor arms into high traffic areas like nurses stations to maximize space and help create comfortable, ergonomic locations for documentation. Consider adding large-format display mounts for patient monitoring and other workflows to begin digital adoption.

All major clinical systems are installed with more than 90% of lab data available. The Clinical Data Repository (CDR) or other data warehouse has more than 90% of images stored and available across the hospital network with a at least 25% available to caregivers online. Plans are also in place to address a potential outage.
Recommended Equipment
In addition to considering non-powered mobile medical carts, discuss implementing wall workstations across units. These space-saving documentation stations are often more budget-friendly for early EMR adopters but still provide comfortable height adjustment and convenient in-room access to digital information.

Caregivers can access the CDR to review results. Policies and procedures for workflows like bedside scanning and specimen collection are in place, along with security training policies. A committee starts defining workflow and support objectives. IT has prioritized applications by importance for business continuity.
Recommended Equipment
Choose a to easily move technology that you likely already have like a scanner from room to room and to a patient's bedside. Purchasing a compact platform for existing technology will help users focus on incorporating the mobile carts into their workflows without having to simultaneously learn a new device.

More than 25% of documentation is created using online tools and in the CDR. An electronic medication administration record application (eMAR) is implemented for all medications. Access to external data sources like educational materials and vaccination systems are available to caregivers, along with remote access to patient records (if allowed by policy).
Recommended Equipment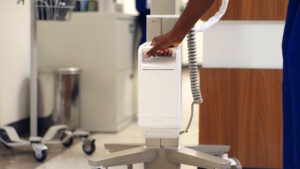 As EMR adoption grows, consider power options for keeping technology up and running to access this online data. At this stage, explore , like the CareFit Slim 2.0 LCD Cart and LiFeKinnex Power System. You can easily alternate depleted batteries with fully charged batteries on an external charger without having to rely on an outlet. Look for battery technology that's long-lasting and reliable.

More than 50% of orders are placed using computerized practitioner order entry (CPOE). More than 50% of all clinical documentation is created using online tools and in the CDR. Where available, caregivers have access to a national or regional patient database to support decision making.
During EMR downtimes, caregivers still have access to key patient information. Patient satisfaction targets are identified, and a governance committee assesses computerized orders for usability and compliance.
Recommended Equipment
In this middle EMR adoption stage where more documentation is completed online, consider implementing the CareFit™ Slim Laptop Cart. Physicians often prefer this versatile cart for completing rounds with a laptop and building face-to-face patient relationships. Wall workstations like the CareFit Combo System are another caregiver-friendly solution, as they can easily enter orders at the bedside without moving a mobile workstation.

More the 75% of clinical documentation is created using online tools and available in the CDR. More than 25% of medications are electronically identified at the bedside. The organization is tracking timeliness of care to examine workflow efficiency.
Secure texting in place between clinicians to enable team communications and collaboration. Care teams provide telehealth prior to admission and post discharge. Clinical outcome targets, like patient satisfaction, are measured and used to prioritize changes.
Recommended Equipment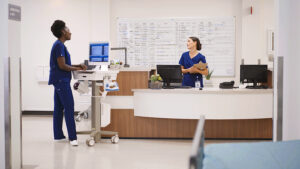 Power will become even more important as you transition to a digital healthcare organization. Look to the CareFit Pro Medical Cart (or the more compact CareFit Slim 2.0 LCD Cart) with the LiFeKinnex hot swap power system for added flexibility and uptime.
Be sure to choose technology that can accommodate multiple configurations and future hardware upgrades like the StyleView Cart with LCD Pivot. In addition to hot swap power, it can support closed notebooks with a monitor, CPU and monitor, thin clients, tablets and all-in-one computers.

Medical devices are integrated into the EMR in ICUs. Patient satisfaction is measured using automated digital tools, and patients can access and update some of their personal data.
Analytics actively assess outcomes data for needed changes, and rates of adverse events are tracked across the organization. A clinical governance committee helps oversee clinical care outcomes to identify quality and safety priorities.
Recommended Equipment
Nearing the completion of your full EMR implementation, broaden your product portfolio with a hybrid approach. In addition to the non-powered and powered StyleView Medical Carts, incorporate a variety of wall workstations into your care areas. This will help meet the needs of a diverse set of users and workflows to encourage adoption.

Your organization works to evaluate and improve patient safety and satisfaction by providing EMR information when and where clinicians need it. The EMR ensures the workflow and content in the digital tool meets the needs of the clinical teams while monitoring compliance.
Following the EMRAM, your organization abides by the data use policies for the EMR and the level of access available to users.
Recommended Equipment
As a fully digital healthcare organization, invest in a fleet of powered, full-featured medical carts that can adapt to each user and workflow over time. This allows you to not only transport technology and supplies to the point of need but view critical information on a large screen to drive care decisions.
Solutions for Each Phase of Your Digital Journey
It's important to work with a trusted partner who understands the unique equipment needs at every phase of EMR implementation and who offers solutions to meet each of those needs. View Ergotron's broad portfolio of mobile medical carts, wall mounts and more at healthcare.ergotron.com.