Ergotron supports the HIMSS organization in their decision to cancel the 2020 HIMSS Global Health Conference & Exhibition due to the evolving COVID-19 (coronavirus) situation. Stay tuned for more information on how we plan to bring HIMSS to you with a virtual or in-person presentation!

One of the largest global healthcare industry events is just around the corner. The 2020 HIMSS Global Health Conference & Exhibition is March 9–13, 2020 in Orlando. Once again, we're excited to join the 45,000 global health changemakers at the forefront of innovative health information and technology solutions.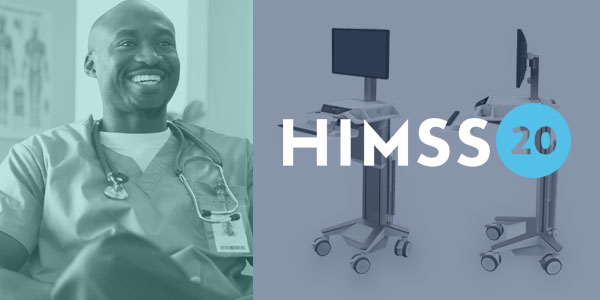 With hundreds of exhibitors and more than 300 education sessions, visitors have endless options for development and networking. Need some help narrowing it down? Here's our top three recommendations for must-see events at HIMSS20:
Visit the Intelligent Health Pavilion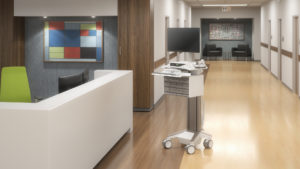 Get a first-hand view into how cutting-edge technology can revolutionize healthcare in specific care applications. Walk through an operating room suite, a labor and delivery room, a patient room and more with professional actors describing how products streamline workflows and the overall experience for patients and caregivers. As the only medical cart manufacturer featured on this in-depth tour, you'll see Ergotron's new CareFit™ Pro mobile medical cart, StyleView® products and more on display! Be sure to say hi to an Ergotron sales rep in in Platinum Kiosk #17 at the end of your tour.
Quadruple Aim speaking session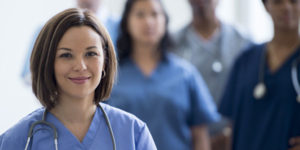 The nurse burnout statistics are staggering. Not only does burnout impact caregiver well-being, it has a direct impact on patient care. Join Bob Hill, one of Ergotron's Healthcare territory account managers, on Tuesday, March 10, from 4-4:25 p.m. in the Leadership Theater to learn about the role of ergonomics in holistic caregiver health in relation to the Quadruple Aim.
You may already be familiar with the Triple Aim of enhancing patient experience, improving population health and reducing costs. Now a fourth aim focused on caregiver engagement has emerged as a key priority that also positively impacts the other three aims.
Bob will discuss how inefficient clinical workflows and burnout can have a negative impact on both caregivers and patients and how ergonomics and the Quadruple Aim contribute to caregiver well-being and engagement.
"IT Meets ID" book signing and happy hour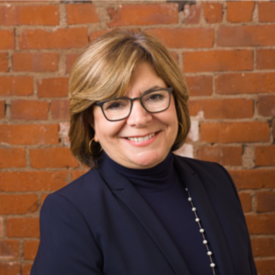 We hope you visit Ergotron booth #959 throughout the show, but make sure to stop by specifically for a special in-booth event on March 11 from 4:30-5:30 p.m. Rosalyn Cama, FASID will sign copies of her book, "Evidence-Based Healthcare Design" and chat with attendees about the increased role of design and space planning in healthcare—an approach you can see in our CareFit product family.
Connect with her about your unique challenges of fitting IT into healthcare designs, and learn about the intersection of technology, patients, caregivers and space. Hint: Attendees who pre-register will receive a free copy of her book!
See you in Orlando!