Championing a wellness-inspired office refresh to create a healthier workplace can happen in just one business quarter with the help of our e-book.
We know that many of you, however, work from home! A global survey found that more than half of employees work from home at least once per week. The U.S. Census Bureau's American Community Survey reported that regular work-at-home has grown by 159% since 2005.
To help all employees embrace a healthy workstyle, we've applied the same principles of wellness to a home office. With minimal time and effort, your home office can better embody four important tenets of health and well-being: movement, mindfulness, nature and nutrition.
1. Invest in a flexible workstation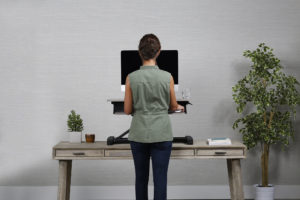 Chances are you already know how important movement is to health and well-being. As a company that's founded on the principles of functional, good-for-you furniture design, we think it's the most important place to start with any office overhaul—especially one that starts at home.
Standing desks are an easy way to infuse small amounts of movement into your day. Unfortunately, they are often absent from at-home office setups. It makes sense that, in some cases, cost is the barrier. But more often than not, it's a matter of misperception.
People commonly think that they will move more when working at home. While it's true that you might start a load of laundry or take out the trash, there's another reality that every at-home worker faces at some point. The realization that your home office is often just as sedentary—if not more—than a traditional office.
Investing in a flexible workstation ensures that you can always spend time standing, stretching and moving, regardless of what the workday brings.
2. Start a mindfulness routine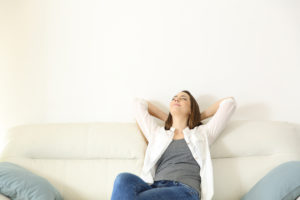 For at-home workers, technology is a constant companion. While great for productivity and meeting the needs of bosses and clients, it also means you're "turned on" all the time. Integrating mindfulness into your day is a great way to reset, and it can be done with as little as one or two minutes.
A simple way to start is with a small set of essential oils, which can be easily placed on your desk as a reminder. Following the instructions on the label, sprinkle one to two drops of essential oils (try a mix of lavender and lemon to calm and refresh) onto your palms and rub them together, creating heat. Open your palms, softly inhale the scent and focus only on your breath for one to two minutes.
Starting a mindfulness routine is a great way to de-stress and recharge. Because it takes so little time, you can incorporate moments of mindfulness throughout your day.
3. Buy several easy-care plants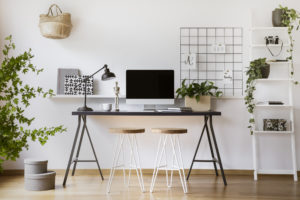 Incorporating natural elements into your home office can do wonders on how healthy and inspired you feel in your space. Invoke the feeling of the outdoors by adding several easy-care plants. If you're lucky enough to have a home office with lots of natural lighting, integrate a mix of desk and floor plants.
In addition, keep natural elements top-of-mind whenever purchasing new items for your office space. If you're buying shelving, consider a natural wood finish. When you hang pictures, include prints from your favorite beach or park.
Adding natural elements—especially plants—is a great way to bring the outdoors in, calming your senses and purifying the air.
4. Stock your kitchen with healthy options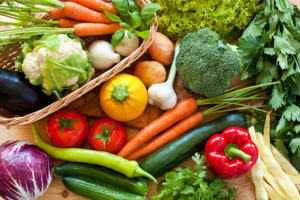 One of the best perks of working from home is having a kitchen at your fingertips. But when it comes to a wellness refresh, you'll want to pay attention to what's inside the pantry and fridge. Just like the corporate break room, it can be nearly impossible to pass up sweets and snacks when stress and hunger strikes. Having simple, healthy choices on hand makes the decision process easy, which is especially important on busy days.
To improve your nutrition when working from home, make sure to stock snacks like fresh fruit, veggies and nuts. Investing in a water filter is a great way to encourage more water consumption, too.
Getting started with a wellness-inspired home office refresh is quick and easy. Especially since making changes at home comes with less "red tape!" Take the first step today, and once you've tried these ideas, integrate some of your own. When you're ready for more inspiration, download your copy of Ergotron's e-book, "Champion a Wellness-Inspired Office Refresh." Then let us know which tips you find most helpful!