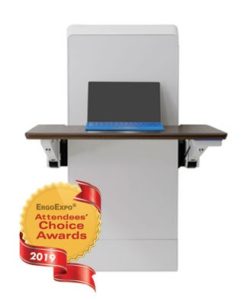 Many spaces in both healthcare and office environments are underutilized—think walls in clinic exam rooms or waiting areas, along with corporate office common areas. That's where WorkFit® Elevate™ comes in. This modern wall mount reimagines underused spaces as a flexible workstation for individual work or collaboration.
Key industry stakeholders like ergonomists, health and safety professionals, and HR representatives have taken note. They selected WorkFit Elevate as a winner in the 2019 ErgoExpo Attendees' Choice Awards for its ability to help increase productivity and profitability, while improving workplace health and safety. This is the second consecutive year that Ergotron has won this award, following last year's recognition of the WorkFit-TX.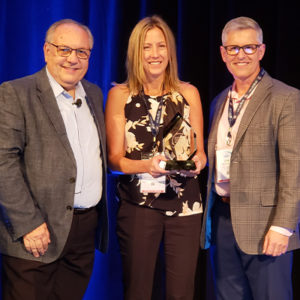 We're proud to develop award-winning designs that provide a comfortable way for users to work with technology and connect with each other across a variety of verticals. WorkFit Elevate invites collaboration with a height-adjustable worksurface with optional power access to provide the full BIFMA range of 26" for comfortable working sitting or standing. It frees up floor space and offers a flip-down worksurface for additional work area to enhance both aesthetics and productivity.
It will be available in North America soon! In the meantime, check out more details about the exciting new product or sign-up for updates.