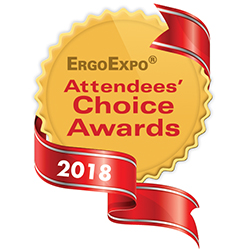 As ergonomists and safety and wellness professionals walked the show floor at ErgoExpo last week, our new ultra-low, standing desk converter with a height-adjustable, back tilt keyboard garnered a lot of attention—and some of the most votes. Ergotron's new WorkFit™-TX Standing Desk Converter was named one of the Attendees' Choice Award winners based on participant votes. Attendees were asked to select new products that provide "the best opportunity to increase productivity and profitability, while improving workplace health and safety." And our new WorkFit-TX does just that.
It was thoughtfully designed to offer an ergonomic fit no matter how you work—sitting or standing. The X-shaped lift lowers within inches of your desktop to give you the right monitor to keyboard tray spacing that lets you WorkFit. With an adjustable, drop-down keyboard tray, this ultra-low standing desk converter sets the new standard in sit-stand with advanced ergonomics and style out-of-the-box.
Ready to learn more? See the ultra-low design and how our product outdoes the other guys here and check out more photos from event below.