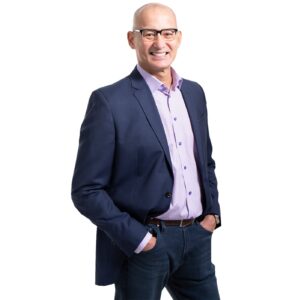 Phil Kelaart recently joined the Ergotron team in a newly created role—EVP, Global Supply Chain Operations. Phil is responsible for global supply chain, manufacturing, warehousing, logistics, facilities, quality and continuous improvement, as well as environmental health and safety.
We talked to Phil about what he's looking forward to in his new role, his thoughts about what you gain by working at smaller, growing companies, and what brought him back to Minnesota after living abroad for seven years.
What are looking forward to in your new role at Ergotron?
 In business, there's always opportunity and that's what I'm excited about at Ergotron—there's the opportunity to do something differently or find a better way. In my experience, even problems or challenges that come up can sometimes have surprising benefits. Also, when businesses grow really large, it's harder to connect to the team and build on each other's ideas—you miss some of those touchpoints. I'm looking forward to interacting with the team, sharing ideas and finding innovative solutions.
You spent virtually your entire career at Emerson—almost 30 years. What was that experience like?
Throughout those years, it didn't feel like one role—or even one company. I joined a $250 million division. When I left 20 years later, it was $1.3 billion. When you join a young business and grow like that, you get to do everything. It was fantastic.
Is there a professional achievement that stands out to you?
I really enjoyed developing additive manufacturing (3D printing of special parts) at Emerson. Using additive manufacturing makes commercial parts that are lighter, thinner and stronger. As a result, you use less metal to create those parts and since the metal isn't cut or machined, there's no waste. This process is now widely used in aerospace applications. It'll change the world.
What's your leadership style?
I like to leverage the experiences and the ideas of everyone, build on each other's input and come up a shared vision. In business, you can create a strategy but problems will inevitably arise. In that case, if we're following the plan but we're not getting the result we want, teams who are bought-in on the end result will change their approach. If everyone has a shared vision, we'll get to the goal even if we have to adjust the plan.
Could you share something about yourself that people wouldn't find on your LinkedIn profile?
My wife and I had been living overseas for the past seven years—in the Philippines for three years and most recently in Switzerland for four years. But we moved back to Minnesota to be closer to family and our new grandson, Paul.