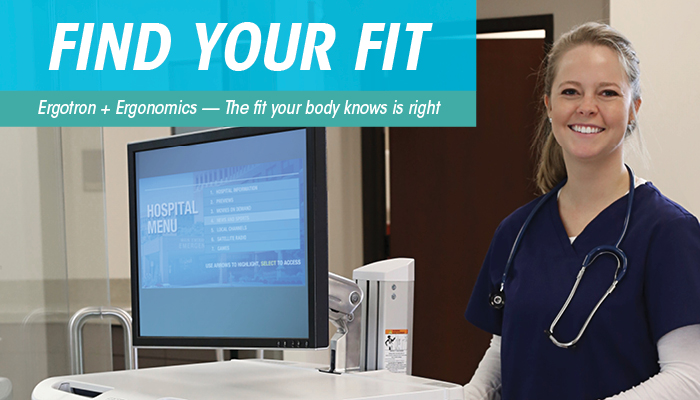 It's Ergonomics Month, and there's arguably no environment where ergonomics is more important than in healthcare, where poorly designed equipment has the potential to harm those who heal.
Ergotron's CareFit™ and StyleView® Medical Carts are designed to support healthy and happy caregivers for the best patient care. Here's how customers can use these carts safely and comfortably:
Always check that the cart is unplugged from the power source before moving it. Adjust the height of the handle so it's level with your elbows and lower the monitor so it won't block your view when walking.
After unlocking the wheels, remember to always push and never pull the cart.
At your destination, reposition the cart so the keyboard is level with your elbow and the top of the monitor is level with your eyes. Remember to find your fit every time you use or move the cart!
Ready to view more ergonomics tips? Click here, and if you're in the U.S., be sure to enter our daily Lift35 Standing Desk Converter giveaway in honor of Ergonomics Month!