In the "Anatomy of a Sit-Stand Company" webinar recording, you'll discover how workplace wellness and productivity is impacted by workstations, whether movement-friendly or not. Ergotron surveyed over 1,000 employees, from seven different divisions, and over 40 locations of a publicly traded corporation and is bringing the insights to you in this informative discussion.
Listen now to this 45-minute recorded webinar with Ergotron's worksite wellness expert Betsey Banker.
Wellness professionals interested in the corporate adoption of sit-stand workstations will especially benefit from this webinar.
WHY ATTEND:
Get a snapshot of the various impacts of traditional versus sit-stand desks in a large, multi-segment organization
Find out the personal impact access to movement-friendly workstations can have on sedentary employees
Receive a free executive summary that highlights results of the Workplace Movement Assessment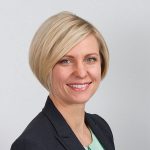 PRESENTER: Betsey Banker, CWWS, CWWPM
With over a decade of experience working for a leading manufacturer of ergonomic and sit-stand display mount solutions, Betsey has experienced firsthand the transformative impact that movement can have on worker well-being. [read full bio]