For most employees, your desk is a daily home base for meetings, focused work time and sometimes socializing. Considering you probably spend more than eight hours a day at your desk, it's important to find a desk that fits you.
The right desk depends on each person's workspace and body type, but one thing is universal—it should add movement and comfort. Sit-stand workstations bring ergonomics into the equation to create a comfortable space that helps maintain your health, focus and productivity.
With lots of sit-stand desks on the market, how do you decide?

Evaluate your space
When choosing a desk to fit in your office or home office, first consider how much room you can dedicate. If space is a concern, prioritize a deeper desk rather than a wider desk to keep all your desk essentials within arm's reach. Shallow desks place your monitor too close to your face, which can cause eye-strain and bad postures.
If you're short on space, we've curated 10 ways to maximize small spaces.
Here are some things to keep in mind when planning your new sit-stand workstation:
Locate a spot to place the chair when you're standing.
Make sure there's plenty of room above and below the desk to avoid collisions.
Keep your desk near a power source for simpler cable management.
Consider how natural lighting moves across your space during the day.
Full desk or desk converter?
Choosing a full sit-stand desk or a converter depends on your preference. If you have a sturdy desk, a sit-stand desk converter will be a more sustainable choice since it sits on top of your current desk. A full desk gives you more surface area while standing, but is often more expensive and takes up more space.
Finally, check how some desk converters move. Depending on how they're designed, some push you back and hang over your desk when moved into the standing position.

Desk converter types
There are many variations of sit-stand desk converters. Your existing desk can often play a role in which converter you go with.
Desktop: Likely the most common design, this converter style sits on top of your existing desk. Some feature additional elements like drop-down keyboard trays, which are more ergonomic for typing.
Post and keyboard tray: This desk converter type clamps to the desk and provides a keyboard tray and monitor riser. Some include small platforms for desk essentials or even dual monitor mounts. If you have a desk with drawers under the worksurface, this type may not be compatible.
Floating arm: This style offers a lot of flexibility to move with your technology. The arm can swing out of the way when you need more desk space or lifts when you want to stand. An arm works great for standing during meetings and minimal desk setups.
If working in the same spot each day doesn't interest you, a mobile desk can give you the freedom to move around the office or home. Best paired with a laptop, a height-adjustable desk can let you work in the sunlight near a window or at the front of the room to give a presentation.
Adjustment method
There are several ways for desks to move. This also comes down to preference and your workspace.
Constant Force™ Technology: Our patented technology uses spring tension to make movement easy and quiet with no electricity needed.
Electric motors: Electric desks make switching positions as easy as pushing a button, which is helpful if you put a lot of weight on a desk. Some electric desks can be noisy or move very slowly and of course need a power source—that adds another cable.
Hand crank: Often a cheaper alternative to spring or electric designs, a hand crank can make switching positions regularly a hassle or an extra workout.
Cable management
Cables quickly add clutter to your work area, and they're even more troublesome when your furniture can move! Good cable management is required for sit-stand desks to function properly and not cause damage to your technology. Look for professional-grade standing desks that have channels and trays to make cable management easier.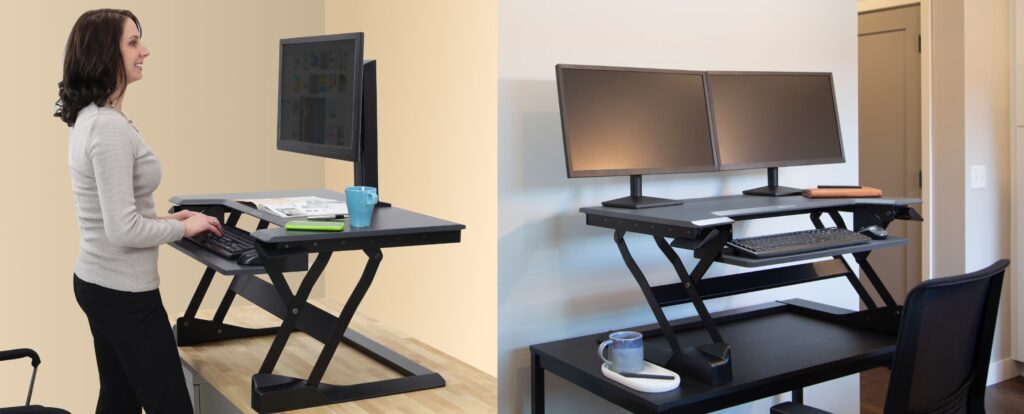 Monitor mounts
Monitor mounts give you more ergonomic adjustment and can create more usable space that's usually taken by bulky monitor stands.
Multiple displays can improve productivity by reducing the time spent between switching windows and losing focus on each task. Many desks come with monitor mounting options, so make this an important aspect of your search.
Do I still need a chair?
Experts suggest that changing positions frequently all day is the healthiest way to work. Standing all day isn't better for you than sitting all day. Try building up to the Sit-Stand Switch™ and switch between sitting and standing positions every 30 minutes.
Look for quality
A sturdy desk is literally the foundation of your workspace. It's an important and often overlooked quality when customizing a working environment. You don't want to watch your screen bounce every time you type an email. A stable sit-stand desk uses professional-grade materials and undergoes quality testing to ensure it's stable after being adjusted throughout the day.
Warranty
Most people expect their standing desk to last for several years or even decades. A desk manufacturer should stand (or sit) behind their product and support it for years to come. The industry standard for desks is typically five years.
Personalization is key
If there's one thing to takeaway, make sure the desk you choose fits you and helps you work more comfortably. We offer free tools to help you personalize your workspace for a comfortable and productive workday.