The World Health Organization (WHO) has launched an impressive and much-needed initiative to combat physical inactivity. The report, "WHO Global action plan on physical activity and health 2018-2030: More active people for a healthier world," identifies the reduction of physical inactivity as it's central motive.
At Ergotron, we've known for years that physical inactivity is harmful to health, which is why we continue to share the latest research, facts and stats with you on JustStand.org. The WHO action plan takes it one step further to call for a measurable reduction in inactivity.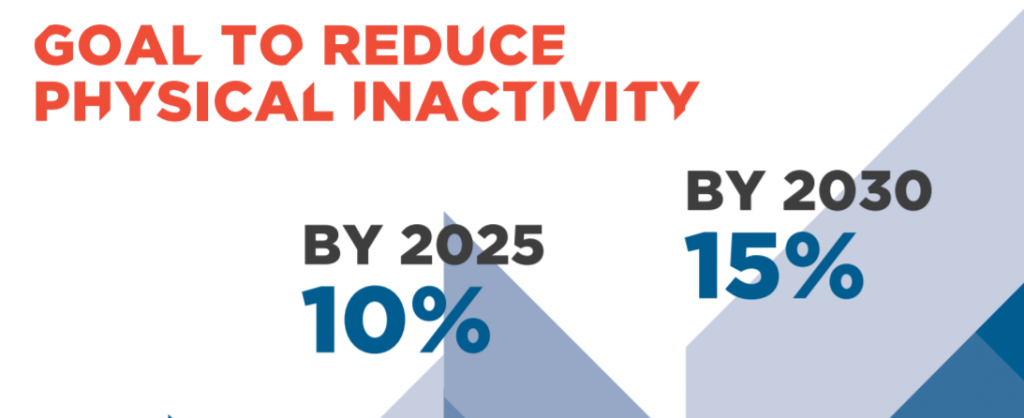 The plan is comprised of four parts. Learn more about each phase of the initiative below, which aligns with Ergotron's longstanding support for movement in the workplace and beyond. You can also check out a related video from WHO's "Let's Be Active" campaign here.
Part One: Create active societies
Creating active societies focuses on changing social norms and behaviors. Sitting becomes a habit over time, and standing is often socially awkward in a lot of settings (think: being the sole person standing during a meeting, at the dinner table or in a place of worship). Changing these behaviors starts with an understanding of why movement matters, the importance of physical literacy, and teaching that movement is connected with learning and well-being at every age. It's about reestablishing the mind-body connection and making movement a socially normal part of everyday life.
Part Two: Create active environments
Changing behaviors is easier when spaces and places provide the right tools. Ergotron's WorkFit™, LearnFit® and healthcare sit-stand products are designed to change the built environment in offices, schools and hospitals. They create spaces that offer freedom of movement, choice and autonomy—the building blocks of a movement mindset.
In regards to the WHO goal, it's exciting to know that WorkFit and LearnFit products can successfully reduce physical inactivity among office workers and students by 15 percent or more during work and school. This further supports taking a proactive approach to sit-stand access and adoption.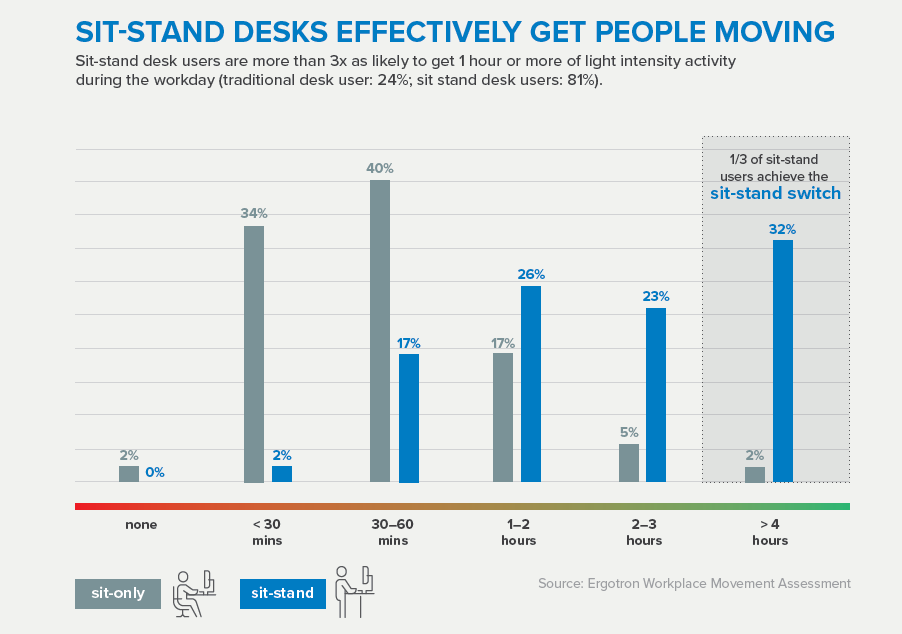 Part Three: Create active people
The action plan can only be successful if it creates active people. A necessary component is creating programs and opportunities that get people moving. Ergotron and organizations like the Health Enhancement Research Organization (HERO) understand the impact that people and programs have on changing behavior. That's why tools like the Make the Sit-Stand Switch™ handbook talk about creating policies that support movement. This can be as easy as requiring breaks during longer work meetings and a dress code that facilitates workday standing and movement.
Part Four: Create active systems
The final component of the action plan references governance and policy enablers. As a supporter of Active Schools, Ergotron has participated in discussions and petitions to the U.S. government to have low-level physical activity (LLPA) included in physical activity guidelines. The WHO initiative might finally be the catalyst to creating this kind of U.S. policy that reflects the need for active people, environments and societies.
We know that visibility into this important issue from a well-respected, global organization elevates the conversation around physical activity, encouraging a worldwide audience to rethink the choices we make every day in the office, classroom and at home. We promise to continue doing our part to provide you with the tips and tools to turn these ideas into practice.