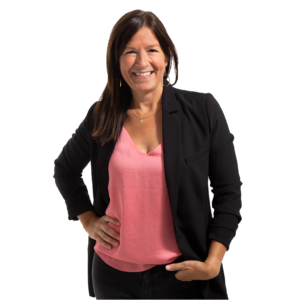 Dena Mayne, an accomplished business leader, recently joined the Ergotron team as chief marketing officer (CMO). In her new role, Dena will lead the global marketing and product management teams.
Throughout her career, Dena has gained expertise in marketing, branding and talent development. We sat down with her to learn more about what she's looking forward to at Ergotron, her approach to leadership, and the valuable skill she learned growing up on a small farm.
What are you looking forward to in your new role at Ergotron?
Ergotron has a compelling vision and that's what first attracted me to the company. I also love being part of a team—coaching, mentoring and working with a group to take an idea and make it even bigger and better is gratifying. Creative problem solving is also fun for me, and there's never a shortage of complex problems to work on in a corporation.
You spent the bulk of your career at Ecolab and held various leadership positions during your tenure there. What was that experience like?
I was fortunate to get a breadth of experience during my time at Ecolab. I worked in the business for several years where I gained a deep understanding of the customer and how to best innovate to meet their needs. I also had the chance to do corporate branding work and helped lay some of the foundation for how the brand is now brought to life. In addition, I had the opportunity to help develop talent for the marketing organization and traveled all over the world, particularly to Asia and Latin America.
How do you approach business strategy and driving growth?
I've spent quite a bit of time working on big picture corporate strategy and then figuring out how different business units work together to help achieve overall corporate goals. I really enjoy working through tough problems and figuring out an effective strategy.
What are your thoughts on leading teams?
Leaders have a responsibility to their teams to help them untap their potential. When a leader finds ways to inspire people so their team shows up as their most creative, innovative, customer-centric selves—everybody wins. The team is more cohesive, the employees have more fun, and the customers get an experience that uniquely speaks to them and solves their problems.
How did you develop the skill for motivating others?
I think it came from learning how to motivate myself. I grew up on a dairy farm in rural Wisconsin (U.S.). Most of the people around me assumed that I'd stay in my small town, so it was up to me to dream up other options for my life. I still go back home frequently, and I certainly learned many important life lessons growing up on a farm—it's a good life for a kid.