This week, David Miketinac joined the Ergotron team as our new executive vice president, Americas, responsible for strategy development and driving growth in North America and Latin America.
David is an accomplished senior executive. Prior to Ergotron, he spent 25 years at Dell EMC in a variety of leadership roles. Here's what David had to say about moving from a large company to a smaller one, his perspectives on leadership, and how his experience as an Army paratrooper influenced his views on training and mentoring.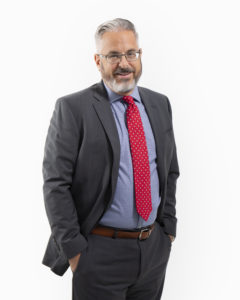 1. In your most recent role, you led the sales organization servicing Dell EMC's North American distribution business. Ergotron is quite a bit smaller. What about this position caught your attention?
Dell is a technology leader in the industry with a strong brand, a focus on world-class customer experience (both internally and externally), cares for their community and the environment and has a clear vision of the future. When looking for a company where I could expand my own skillset, that company had to have those traits, which Ergotron does.
As I began to do my research and asked people what they knew about Ergotron, I kept hearing the same thing over and over again—that the people there are incredible. It's hard to leave a company after 25 years, but the chance to have an even bigger impact alongside an amazing team at a company that shares my values felt like an opportunity I couldn't pass up.
2. You had a diverse set of roles and experiences at Dell EMC. What are some of the initiatives or results that you're most proud of?
In any leadership role, success is driven by the team and not one individual. Accordingly, my accomplishments reflect some solid teams I have been part of. I had the opportunity to be on the ground floor of Dell's launch in the channel, which was very rewarding. I assisted in growing a world-class distribution business and did an expat role in Canada that drove great team results.
3. Are there experiences you've had in your career that you feel will be particularly valuable at Ergotron?
I had many roles and a very diverse experience in my time at Dell. In large companies, you have the opportunity to do different roles and grow along the way. I have been an individual contributor and manager, worked in both inside and outside sales, managed a big project, spent time in strategy and working with consultants, and did an international role. Although you could say I have spent my entire career at Dell, I've had the opportunity to do a variety of things, which will be useful in my role at Ergotron.
4. You've led teams in the U.S. and Canada. What's your approach to leadership?
A wise leader once told me to "seek to understand" when coming into a business. I have also found that any company's most valuable resource are people. My approach to leadership is to understand the current state, discuss my views with the team, create a shared vision, set the strategy and tactics, and execute flawlessly. Success always comes through a shared vision of the future and a collaborative strategy understood and executed by all.
5. Has your experience in the Army shaped how you lead teams or approach challenges?
My experience in the Army shaped just about every aspect of my life. From a business perspective, the U.S. military is founded on the concept of leadership by example, honoring commitments and transparency when appropriate. When approaching challenges, a leader must take complex situations and drive clarity.
Additionally, as many employees aspire to take on new roles, they must continually learn different skills to scale and contribute to the organization down the road. Accordingly, people development and active mentoring are critical to any organization. Giving people the opportunity to develop additional skills in their current roles and providing "stretch assignments" helps both employees and the company. Training and mentoring are critical concepts I learned in the military and hope to bring that passion to this role.
6. What are some of the things you anticipate focusing on during your first year at Ergotron?
I recognize the importance of spending time understanding the business, people and customers. Although I am not new to the workforce, leadership or the industry, my knowledge of what makes Ergotron special is limited to what I knew about the company before, my research online and conversations that led to this role. I recognize I have much more to learn and that much of my focus in the first year will be seeking to understand the current state and developing a collaborative plan for the future.